Pallet delivery Czech Republic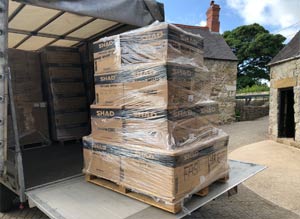 Whether your goods are on pallets or loose we have the expertise and resources to offer you reliable, fast and cost effective cargo to Czech Republic delivery from anywhere in Europe. We also offer same transport services from CZ to anywhere in EU.
The type of freight we can ship is bundles and this includes non-hazardous and hazardous goods on pallets, cars, machinery, exhibition stands, sculptures and more.
Thanks to our huge network of UK and Czech freight forwarders we can offer you express couriers services to Prague, part load cargo shipping to Brno, next day pallet delivery to Ostrava, same day urgent freight courier in Pilsen, refrigerated transport to Olomouc, machinery haulage in Liberec and many more.
Last minute bookings for same day collection and next day, overnight pallet delivery to Czech Republic is our bred and butter. Simply give us a call and our experienced staff will calculate for you cargo shipping costs within minutes. We will offer you options for 12 hours, 48 hours and economy transport. Your goods can be moved directly to the UK, Germany, Sweden and to all Europe without any reloading or can be shipped via the cheapest option called LTL which usually takes up to 5 days for the goods to be delivered.
As we work we many Czech pallet shipping firms in Prague, Ceske Budejovice, Hradec Kralove, Usti nad Labem, Pardubice, Havirov and in Zlin we are in position to provide one of the fastest and cheapest pallet delivery services to and in Czechia.
Our fleet consists of transit vans, 7,5 ton trucks and 18 and 24 tones lorries. Vehicles with hi-abs, cranes, pallet trucks, tail lifts and forklifts can be also provided. We are very flexible in terms of the collection and the delivery time. Late evening, Early morning, night, weekend, Saturday or Sunday urgent, timed deliveries are what we can guarantee.
Simply send us a quick email or phone our team to find out how much is to send an oversize package, 1 pallet or a full truck load of freight to Czech Republic from the UK.
All UK to Czech Republic pallet deliveries are carried out based on standard CMR terms and conditions with limited carrier liability to the goods which can be extended at extra costs. Whether you want to ship goods to Kladno, transport car parts to Most, ship a car engine to Karvina, book an express courier to Opava, transport 20ft or 40ft container to Frydek-Mistek or to bring some merchandise from Decin to the UK we are here to assist.
Doing Business in Czech Republic
An overview of Czech Republic export
This nation has one of the most prosperous and stable markets in the entire central part of Europe. The gross domestic product of the nation is dominated by private sector businesses, accounting for more than 80% of the GDP.
If you need more information about exporting cargo to and from Czech Republic, you can get invaluable advice from UKTI. If the information you need is about insurance cover and trade finance for UK companies, then you should talk to people at the UK Export Finance (UKEF). For more information about doing business with Czech, checking Czechs current UKEF position will do you some good.  Presently, there are more than 300 companies from the UK in the Czech Republic markets and they are all doing well.  They include both small companies and large investors, and they are all owned by British entrepreneurs. Some of them include Allen, Overy, Marks and Spencer, BAE Systems and Rolls Royce, and many of them have their operations in Eastern Europe cantered in Prague.
UK companies involved in sending freight to Czech benefit from the fact that;
English is spoken widely in this country
There is a similar business culture to what you will obtain in the UK
The nation is in a strategic location, in such a way that Russian and CEE markets are easily accessible
Warm reception of Products from the UK
The flight duration is less than 2 hours from the UK
UK and Czech freight forwarders offer overnight deliveries between London and Prague
The Czech Republic market has a number of strengths, and some of them include;
Their membership of European Union, which removes all the bottlenecks that militate against ease of doing business
The country boasts of some of the best infrastructure you will experience in central Europe
Availability of EU funding to the tune of £23 billion from 2014 - 2020
The is not taxes and duties on cargo shipped to Czech Republic
For more information on this, you can read the practical guide to doing business in Czech as written by the European Union.
Czech Freight forwarders
By utilizing an extensive professional band of Czech freight forwarders we have the experience to ensure fully attractive bulky cargo delivery rates to Czech Republic from British Empire, Southampton, Belfast, Salisbury, London, York and more. Do not misuse your precious time. Try our complimentary estimate searcher to scan Czech pallet forwarders to collect and export refrigerated products, dairy products or substantial machinery like buckets, drum heaters, mortisers, plate benders or jointers. Investigate most expert and skilled Czech cargo moving firms that are capable to carry out speedy, economy hire a man and van at as paltry as a couple of hours' registration. Reserve fast and short notice Czech Republic to the UK freight haulage for a late afternoon or weekend delivery. Test how much is to send FTL, five or three, forty, full lorry or twenty four pallets to Liben from Peterborough, to Tabor from Durham, from Cardiff to Zlin, from Swansea to Breclav and more.
Low-price last minute cargo transport to Valasske Mezirici from London, Chester, Thessaloniki, Alicante
Urgent pallet delivery to Brno, Cesky Tesin from Winchester, Portsmouth, Kaunas, Poznań
Same day freight haulage to Orlova, Pardubice from Londonderry, Newcastle upon Tyne, Katowice, Córdoba
Economy one fourth of a, general cargo, twenty ft and 40 feet container delivery to Most from Dundee, Preston, Bochum, Rome
Last minute meat and poultry products, fish and sea food and frozen products transport to Trinec and Frydek-Mistek from Sunderland, Glasgow, Hamburg, Essen
24/7 Saturday, Sunday and early morning goods on pallets and fresh food collection and road transport to Sumperk or Havirov from Hull, Manchester, Kraków, Bucharest
Short notice, late night and bank holiday cargo haulage to Czech Republic from Wales, England, Ostrava, Prerov and Modrany
Every minute, professional, proved and reliable factory plants transport to Decin and Ceske Budejovice from Norwich, Liverpool, Lublin, Frankfurt
Pallet courier to Denmark from Czech Republic
Orderly, standardized and skilled 5 or 1 house moving to Pisek, Pilsen from Edinburgh, Salford, Barcelona, Timisoara
Consistent rapid cargo courier to Litvinov and Krnov from Lichfield, Inverness, Riga, Bydgoszcz
Next day 40 foot container transportation to Ceska Lipa and Jablonec nad Nisou from Newport, Nottingham, Armagh, Madrid, Szczecin
Overnight pallet shipping to Olomouc, Vsetin, Uherske Hradiste and Kladno from Leeds, Coventry, Málaga, Turin
Challenges
Though the EU membership eliminates majority of constraints encountered in doing business between these two nations, there are still several challenges witnessed in doing business with Czech, and they include;
A judicial process that is very slow
And a public procurement process that is not transparent
Czechs growth potential - Economic growth
The nation 's GDP witnessed a 4.2% growth within the first 6 months of 2015, and this placed the nation amongst the fastest growing economies in the entire Europe.  The growth is occasioned by the improvement that is noticed in fixed investments, household consumption and a strong performance in exports. Because of these, the national bank of Czech did forecast a growth rate of 3% in 2015. However, the economy will experience some major challenges in the coming year, and these will be mostly cantered on areas like;
Slow growing euro zone markets
State spending that is restrained, so as to remain within the 3% of GDP deficit target given by the EU
Structural reforms that will happen in the pension and health sectors
Trade agreements
Czech Republic is an EU member country. It is also a member of the World Trade Organization (WTO). Because of the first reason, there are no import duties for goods that are manufactured in the UK. This means that you have a huge amount of the cost of your import reduced. When you have issues accessing the single market and its operations, contact SOLVIT for advice and solutions.
Emerging Europe
This country is also part of the area named the emerging Europe area, which comprises of nations in the Central and Eastern Europe (CCE).
In this country, numerous potentials abound for British businesses. The volume of exports from the UK to this region amounts to about £16 billion. The export of goods from the UK to Czech has doubled in the last 10 years, while the services exports have also trebled at the tune of £4 billion.  The UK can actually use Czech Republic as a gateway into the other 100 million consumers that are resident in the markets in these regions.
The opportunities in the region are mostly cantered in 6 main areas and they include;
Services
Infrastructure
Life sciences and healthcare
Energy
Security and defence
Advanced manufacturing
Same day pallet shipping to Czech Republic
Are you surfing for a live, bargain-counter and accurate offer to export or import some freight to Czech Republic or back? Our network will be enraptured to offer you our expertise. We not only send cargo and weighted industrial equipment from the UK to Czech Republic but we also secure chilled food and any other freight delivery from Czech Republic to the GB, Lithuania, Spain, Norway and all EU countries. Habitually our batch of responsible UK and Czech merchandise hauliers is in position to accomplish a diverse span of overnight freight forwarding solutions at just 2 hours ' notice and at a cheap cost. If you are having a dig around for an affordable or same day goods on pallet, dairy products, 15ft container, excess baggage, plant equipment or any other cargo transport to Czech Republic from the UK we are able to deliver the service. Our cheap cargo to Czech Republic freight forwarding prices are done to be extremely cut-rate when relating to other Czech shipping companies. Get in touch with us rapidly for a momentary transport by road rate!
Our lately delivered assignments contain:
Economy meat and fish haulage to Havirov and Ostrava from Preston
Last minute machinery shipping to Prerov from Sunderland
24/7 twenty eight pallets delivery to Modrany from Glasgow
Short notice 30ft container transport to Decin from Hull
Next day meat and poultry products removals to Ceske Budejovice from Manchester
Overnight haulage to Czech Republic by road of a combination of farming and gas and oil machines such as pile elevators, vibratory compactors, metal detectors, shrink wrapper machines and road construction machinery
Emergency a man with a van for cartons and lounging furniture export
Express truck and heavy items moving to Pisek from the UK
On the house burning freight to Czech Republic delivery rates forecast, cost proffer
Cheap and 24/7 oversized cargo courier to Pilsen, Litvinov or Krnov from Norwich, Liverpool, Edinburgh and from any zone in Britain
Whether you target to pick up and export just one item, carry a personal belongings container or book long distance LTL Luton, Luton Box or 24 Tonne with Tail Lift truck our UK to Czech Republic cargo transport firms have the expertise to meet all your requirements. We also will be delighted to send every cubic measure of road transport containers - collapsible end frame, 20 ft no roof, 40 ft, forty foot, 40ft shipping containers and other. We also have the expertise to provide archive storage and secure storage for sundry kinds of equipment - decorations, household goods, outdoor furniture, jewellery boxes and hangers, cargo, car equipment, production equipment, half of the container and many more. Whatever your moving or conveyance needs could be we will estimate how much is to collect and haul pallets, furniture, freight, outsize cargo or any other wholesale freight to Czech Republic from Scotland, Ireland, Wales and all the United Kingdom. With our economy goods on pallets importation firms and with the wide network of short notice UK and Czech cargo movers you can examine approximate cargo to Czech Republic costs within a couple of quick instants.
EU structural funds
Czech got an allocation of about EUR 23 billion from the EU through the structural and cohesion fund program. With this, the country will be maintained as a market that offers growth, good prospects and stability for business from and with the UK. With the funds from the EU, investments will be made in areas like;
Regional projects
Research and development
Competiveness and innovation
Human development
Technology and environmental projects
Infrastructure
Trade between the UK and Czech Republic
Goods export from the UK to Czech reached £2.1 billion in the last 2 years. With this, it became the 27th largest export market. Amongst this, the bilateral trade area benched at £6.92 billion, indicating a doubling from 2000. The statistics shows that UK stands as the 12th largest exporter to this country with 2.3% of Czechs export market in its bags. The UK has been either investing in or sourcing for supplies from the Czech in areas like engineering, electronics, automotive and others.
UK exports to Czech in 2014 were majorly in these areas;
Iron and steel articles
Apparel articles and accessories
Technical, medical, photo and optical apparatus
Plastics
Miscellaneous chemical products
Pharmaceuticals
Vehicles, excluding tramway and railway
Boilers, machinery and nuclear reactors
Electronic and electrical components
Since the early 1990s, trade between the UK and Czech have gotten to EUR 2.8 billion
Urgent freight couriers to Czech Republic
If one of your customers intend to get the palletized goods, freight, monstrous personal effects, colossal a half of a container or some other business frozen food dragged as soon as possible and carried a couple of days afterwards we are the last minute UK to Czech Republic goods on pallets couriers that would be positive to transport your goods.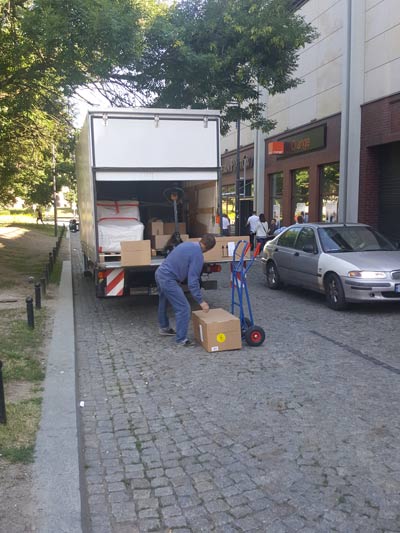 Our efficient, express, low-cost and next day cargo courier to Czech Republic from the British Empire has the team of experts to take up any freight sending on every existing way. We are in position to forward any tremendous freight from Salford to Ceska Lipa, pick up and move fish and sea food to Jablonec nad Nisou from Lichfield, execute express 31.50 in × 47.24 in pallet road transport to Olomouc from Inverness, move named cargo container to Vsetin from Newport, relocate considerable forestry machinery to Uherske Hradiste from Nottingham, forward musical instruments, pool tables or grand pianos from Kladno to Armagh and different.
Same day Czech goods on pallets courier firms do not only transport leviathan and chunky machinery or vegetables & fruits processing equipment we also offer urgent transport of any single and tiny personal items like moving house packing boxes, furniture, bench seating, 3-seater sofa, contents of sheds, files, wine collections, girls' clothing and more.
In the situation we are unable to satisfy your overseas cargo transportation requirements our experienced workers knows where go to request emergency cargo haulage prices to Czech Republic from a lot of bought for a song and overnight UK and Czech courier companies.
Our firm will send you a text message how much it costs to transport freight to Czech Republic from the UK, Holland, Turkey, Belgium, Montenegro, Slovakia and from all Europe and from all the Great Britain with England and Northern Ireland. You will be glad with our same day one third of a shipping container, frozen products and other goods on pallets to Czech Republic shipping rates.
Opportunities for UK businesses in this country

This country has been ranked the 11th most attractive country for retailers in the entire Europe and also the 17th in the entire world.
Prague has been named among the top 10 destinations for retail trade in Europe and the first for luxury and high street brands in the CCE area. Since 2010, this country has welcomed up to 13 new brands in the luxury sector and 15 in the high ends sector.
When it comes to the mobile phone user penetration, this country is leading in the entire CCE with 74.6%. In terms of Smartphone penetration, it has about 58.7%, while e-shops penetration is about 37,000 e-shops.
The Czech market has up to 200 franchise systems in operation. There is always the prevalence of local Czech concepts, though there has been a recent increase in foreign and imported concepts too. The retail and services sectors are leading in this regard.
UK businesses have opportunities in these areas in Czech;
Franchising
E-commerce
High street and luxury fashions
Freight Shipping To Czech Republic
When you want to ship anything to Czech Republic, just know that we have everything in place for you. some of the services that make our freight shipping so desirable include the cost effective groupage system, the pallets delivery system which has been adjudged the best in the world, bespoke custom logistics for peculiar consignments, express deliveries within 24 hours and 48 hours, and next day services by our specialized courier vans all over the continent. The fact remains that we have shipping and freight forwarding solutions for all your shipping and freight forwarding needs to the Czech Republic.
We specialize in areas of commercial and business cargos, while our partners take care of all forms of house moves, personal goods and your car shipping.
Now, many people do wonder about the significance of names. But the fact remains that names like Czech, as this country is called, mean a lot. This is actually one of the ancient countries in Europe, and it comprises of areas known as Czech Silesia, Moravia and Bohemia.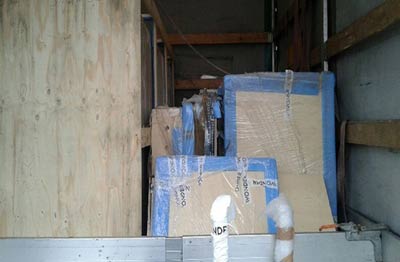 We have been in the business of freight forwarding to Czech Republic from ages and the things we have forwarded include boxes, machinery, cartons and many others. The modern road freight system to this country is one of our strongest points. All forms of business to business haulages to this country can be handled by our professionals. We work with a team of expert advisors that have seen it all in freight forwarding to and from Czech. We have a watchword, and that is the fact that all those awkwardly shaped loads are shipped and forwarded for you without qualms when you contact us. Our services have been confirmed to be the cheapest in the country.
For the most unusual loads, we have trucks that are customized to handle them, so don 't panic about the safety and delivery of such loads if you have them.  What is the shape and size of your cargo that makes you think it will be difficult to handle. Is it tall, big or long? Is it heavy duty manufacturing machinery? Is it a finished product? Is it one of those goods that have restrictive pick-up and delivery time or those that have difficult access points? Do not worry about all these, because our overnight UK to Czech Republic cargo transport company got them all sorted out. With our tail lifting Lorries of different sizes, euro liners, attics and other specially made vehicles, you will be surprised at how easy and safe we will move your consignments.  Now, our advice to you is that when all the other courier companies have declined your loads because of one problem or the other, just call us and we will help you ship, forward and deliver them. Yes, we take care of your problem loads. Whenever your loads are branded unusual exports and imports, just call on us.
Another thing that makes working with us great is that you will go home rest assured of delivery to your door threshold if that is what you requested for. This is because we work with lots of local deports all over the country as partners. This is why we offer the best of regional distribution, because the logistics is always in place. So, almost all the cities and towns in this country are covered, including Kladno, Pardubice, Usti and Labem. Others are Hradec Kralove, Liberec, Brno, Karvina, Karlovy Vary and many others.
The distribution of freights in the country is enhanced by the use of the "R" expressway and "D" motorway networks in the country 's east and west regions. These works are connected together by the D1 between Prague and Brno and it has the capacity to take up to 100,000 vehicles within one day. These road networks entail fast deliveries; even those areas that are not properly served by these networks are also penetrable by our drivers. The drivers at our partner depots are locals who know the interior and remote terrains like ABC, and therefore you shouldn 't have any fears about your deliveries getting to your destination.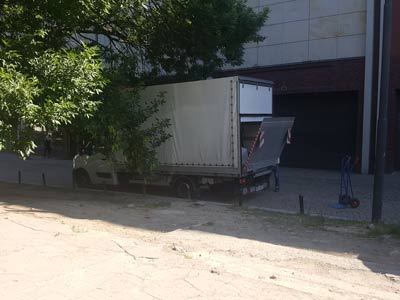 Have you heard about our direct groupage pallet delivery to Czech.? This is for people who are shipping items that are not up to a container load.  We help you to ship these to Czech and back. In this regard, we can accept cartons, boxes, export packed cargo and even European or UK pallets. We also accept small machinery, raw materials, transport equipment, electrical goods and others. Now, we are the best in groupage services and they are very cheap for our clients. When you come with stackable loads, you get even more discounts.
Since everyone is looking for a cheap and yet fast way of shipping to the Czech and UK, we have daily groupage shipments to Prague and other cities to return to the UK the next day. Because we work with many partner courier firms, we don 't waste your time in waiting for our truck to get be filled before your groupage loads will be shipped. This is core excellent service from us.
We offer cost effective pallet delivery systems in the sense that our capacity is maximized by our centimetre base pallets of 120x100 or 120x80 that makes delivery cheap. The types of pallets we handle include wooden pallets, printer 's pallets, plastic pallets, boxes and export cartons. While we centre on offering economic groupage services, we maximize the opportunities that abound in the road freight system.
We also offer express services. But this time, it is not only flight induced. We have legendary and well organized ways of handling all your time sensitive cargoes and haulage to Czech and the UK. We do this with our dedicated courier van lines. With the help of professional sprinter and escort vans, our point to point haulage to this country and back is unrivalled. With these vans, you are sure of your 2 day deliveries to even the remotest areas. We affect this by running the vans with two teams of drivers to avoid rest breaks that waste a lot of time. For this, we have timed pickups and drop offs in all parts of the country and we deliver both full and part loads. This is actually the most cost effective express courier you can ever have.
Whenever you desire to have a peaceful, cheap, fast and effective haulage, shipment and delivery to Czech, do not fail to contact us.
Overnight cargo transport to Czech Republic
We work with the most reliable pallet courier firms in the UK to offer deliveries to Czech and the UK at rates that could be described as cheap. When you want to know what your shipment and pallet delivery will cost, just get to our website and use our online instant quote to get an estimate. When you must have chosen from the available options, you can book for your pallet delivery online and we will pick it up and ship to Czech. Before we pick up your goods for delivery, the goods must be on a pallet, completely wrapped and stable, so that lifting and handling will not be a problem.
Pallet sizes
We run quarter pallets of 250kg and up to 0.8m high
The half pallets are of 500 kg and 1.1m high,
The full pallets are of 1000kg and 2.0m high
We offer easy to arrange pallet delivery from UK to the Czech Republic and back. We have a four-step online process that simplifies what you have to do when you have a pallet you want us to deliver for you. When you do this, you would have completed the order easily, and the next thing you will get is our instant quote.
When we pick up your pallets from your home or any destination, you just have to sit down, and with our tracking device keep an eye on the location of your pallets at any given time. With our first class services, you will be sure of your pallets arriving to their destination on time. Now, we realize that this is a hugely growing market and many of the companies in the UK are sending and receiving goods and raw materials in commercial quantities. So, we assure you that any amount of pallets will be delivered to you from the UK to Czech or any other location in the entire world. For those pallets that need to be delivered to specific locations in Czech, do no border because our premium or economy solutions will cover these for you. We also offer express pallet delivery to Spain from Czech Republic.
For those who are engaged in regular pallet shipments to the Czech republic, and people that are expecting their bulk orders from or to the nation, we will give them the leverage of sitting down with us to discuss better rates for the contract. For your queries and inquiries about the sizes, prices, quantities and other issues relating to the delivery of your pallets to UK and Czech, do not fail to contact our customer service agents for clarification.
Czech Republic Export and Import
This country has had a one way economic fortune within the last few years, in the sense that it has experienced both trade deficit and balance of payment deficit. This country exports such commodities as;
Manufactured goods
Fuel
Raw materials
Transport equipment
And machines
Some of Czechs most ardent export partners are;
The major items that Czech import from other countries are;
Transport equipment
Machinery
Chemicals
Fuels
Its import partners are:
Russia
France
Italy
Slovakia
Germany
As at 2014, this country has a balance of payment to the tune of US $ -398 Millions.
Compare cargo to Czech Republic shipping rates
If you are trying to get and compare short notice vegetables, chilled products or any other non-standard goods on pallets delivery costs to Czech Republic from Britain, Portugal, Scotland, Poland, Ireland, The Netherlands, Malta, Switzerland, Austria and from all European countries you would cater for it evenly and with no effort here via our data network. Our low tariff, last minute Czech pallet transport firms will investigate cautiously and correctly how much it is to forward refrigerated food from Uherske Hradiste to Lancaster, to move storage units from Lincoln to Kladno, how much is to transport quarter pallet from Karvina to Exeter, to send forty ft container to Cheb from Carlisle, how much it costs to haul factory equipment from Stoke-on-Trent to Jihlava and everything you attempt. One of our employees is big enough to discover next day UK to Czech Republic freight road transport prices in as little as a couple of gleams. Call us seemly for any early morning, late night or express Czech Republic to the UK average cargo transport rates for any variety of corporate and public load: wagons, cargo roll container, refrigerated meat, Euro2 pallet, furniture, fridge, household equipment, coffers, office desks, file cabinets and many more. Our most promoted and famous journeys include: budget urgent furniture moving Prostejov to Cambridge, cheap emergency personal items freight forwarding Karlovy Vary to Oxford, affordable overnight containers transport Hodonin to Leicester, cheapest same day heavy equipment delivery Usti nad Labem to Bradford, economy cheap merchandise haulage Trutnov to Hereford and different.
Just a few added steads and odds to employ or place trust in our Czech Republic to UK pallet transportation companies:
Recurrent, reduced, 24/7, bank holiday freight pick-up and shipping Teplice to Sheffield, Chomutov to Stirling, Liberec to Bristol, Kolin to Westminster ...
Student moving boxes, machinery, excess baggage, armchairs, swinging sofa, clocks, private goods, ottomans and other ancillary home and apartment stuff removal Prague to Aarhus, Mlada Boleslav to Duisburg, Opava to Dublin, Trebic to Cologne, Znojmo to Naples and etc.
Gratis exigent cargo to Czech Republic forwarding costs surmise, cost estimate
Cheap low-budget man in a van hire Czech Republic to UK for every one or five bedroom homestead or domicile transportation or 1 suitcase, baggage or coffer removals
Cheapest, early afternoon or late evening, long distance Czech pallet transport by road services for any number of prodigious, unwieldy, immense goods and merchandise: sending cars to Kromeriz, EUR-1 pallet removals Pribram, heavy machinery haulage Novy Jicin to Worcester, vehicle export Hradec Kralove to Aberdeen and anything you require.
Our staff will be delighted to compare approximate freight to Czech Republic moving prices and will pass on to you how much it is to collect and transport your chattels and will forward you an email with our cost proposal within several glints
In terms of international trade with Czech, it became a member of the World Bank in 1993 and has been implementing several World Bank policies so as to further develop the country. It is also a member of some other organs like the WTO, EU and OECD.
Now, as a UK based company, our major function is to offer low cost transport that takes care of all your shipments between Slovakia, UK and Czech. Having been in the business for a very long time, and having experimented with a lot of options, methods and solutions, we can tell you that we now have the most optimal method of offering you the best of shipping, haulage and pallet delivery. We have a network of partners around the two countries, and because of this, full vehicle transport, leasing of addresses to customers, warehousing, fulfilment services and help with products distribution are all easy for us.
There are many reasons to ship with us, and they include;
We are the only shipper with low cost solutions and yet ships every day, week and month.
We offer flexible pick up times in UK and Czech, especially during the odd hours when customers are always around.
Your shipments are delivered to Czech, UK and Slovakia on your selected date.
From our website or that of our partners, you can track the location and state of your shipment while it is on transit.
We pick up these shipments from your home or office address and deliver to any location in Czech and the UK.
Regular customers will get huge discounts according to the weight of the items they ship and how regular they bring in shipments.
We serve you with up to 5 payment methods. So, you must find one that is convenient for you.
Pallet delivery to Luxembourg from Czech Republic
Your shipments are delivered after three days of departure from the UK or on your specified date.
We ship anything at all, including multi-pallet shipments, small parcels, heavy duty oversized equipment and even building materials.
The price for most of our shipments are calculated based on their weight, with the exception of few, and we charge a paltry amount for each kilogram
Business Freight to Czech Republic
If you need a shipping company to take care of your freight transport to Czech and UK, we are here to help you.
Is this your first time of importing or exporting? Or, have you been in the business of international freight and is now looking for a better long term deal for your freight needs? We are here to help.
Our regular groupage service between the two nations of UK and Czech is second to none, and it includes
Local pick-ups and delivery
Part load and full load shipments
Door to door services
Customized professional service for all forms of freight forwarding
Contact us if you need a free online quote to sned cargo to Czechia..
For you to enjoy our services, you have to fill our order form. When we get the form, study it and understand what your freight forwarding needs are, we will contact you to inform you of our proposed best solution for it. What we ensure you is that we go extra miles to offer straightforward and reliable forwarding.
We also offer other forms of extra services, the type you will never get from any shipping company around. Another great service is that business men who buy from different customers in the UK or Czech can count on us to pick up from all of them.
Czech Republic
We offer groupage services of both full and part loads in a scheduled manner to Czech. Our road freight is made more effective by our distribution network all over the country 's cities and towns. We also have warehousing solutions with these partners so that your goods are perfectly secure before pickup. Because we have lots of vehicles of different types, all types of shipments and loads are taken care of cheaply. With our express road services, we can even compete with air and sea methods of shipping.
International logistics and solutions for freight forwarding
What we offer in our firm could be described as innovative and forward thinking solutions. Because of our huge experience, we have built a nice reputation as an expert in freight forwarding and consolidation between the UK and Czech.
Because of our vast experience and knowledge of intercontinental forwarding and European road freight, you will get the best from us. We also offer storage services, coupled with flexible logistics and supply chain solutions.
Our major services are lined below;
Groupage services on schedule to and from Eastern Europe
Import and export services for part load and full loads in eastern and western Europe
Cross trade movements
European and national market consolidation services
Total supply chain management
Contract and warehousing logistics
Product fulfilment solutions
Fashion logistics
Booking of ferry crossing services
Customs clearance
Sea and air freight services
Economy pallet shipping to Czech Republic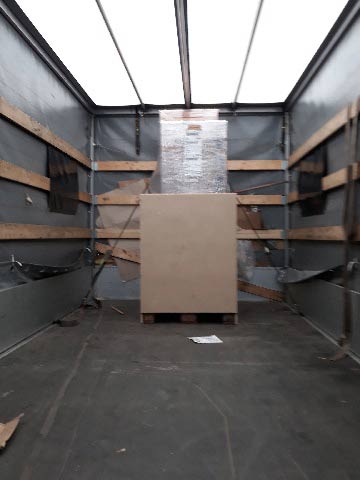 Last minute freight delivery to Czech Republic is only one of the services our skilled team is able to undertake. In fact our ample worldwide chain of cheap cargo removal companies send furniture, haul fresh food, and ship prepress-rip and other profit-making wares across all European Union countries. Our crew will be honoured to provide 24/7 frozen food forwarding Karvina to Bilbao, long distance meat products transport by road Cheb to Warsaw, economy 20ft auto container removals Jihlava to Athens, short notice bulky warehouse and factory machinery haulage Prostejov to Genoa, last minute 47.24 in × 39.37 in pallet export Karlovy Vary to Seville, next day car and auto moving Hodonin to Bologna, Nuremberg to Usti nad Labem, Trutnov to Palermo, Paris to Teplice and etc.. Our delegate can check average pallet to Czech Republic delivery costs and are big enough to ship overseas all bulk of pallet to any region you want - 0,6 ton standard pallet to Chomutov, 1250 kg EUR-6 pallet to Liberec, 500 kg oversize pallet to Kolin, 200 kg full pallet to Prague and anything you aim. Our express freight approximate transport costs to Czech Republic form the UK, Mlada Boleslav, Scotland, Opava, Ireland, Trebic or Znojmo are absolutely standard. Our urgent Czech cargo distribution companies seal devoted, regular and honest cargo road transport services to Kromeriz from Leeds, every week frozen food transport to Pribram from Coventry, invariable aerospace machines transportation to Novy Jicin from Brighton, affordable sole use container shipping to Hradec Kralove from Canterbury and more.
There is a wide variety of profits why you could be making a use of our emergency UK to Czech Republic freight forwarding firms:
Routine, flexible, every month, overnight cargo transport by road to Liben, Tabor, Zlin, Breclav, Valasske Mezirici and more
Far-Ranging stretch of burdensome freight removals trucks - 7500 Kg Gross, Small / Handyman, HGV 17.5 ton, Large volume Luton, Volkswagen Transporter SWB, HGV 1 and more
24/7 pallet haulage to Czech Republic and back to the UK containing Wales, England and Northern Ireland
Short notice refrigerated products and fresh fruits export from Czech Republic to the GB, Brno, Cesky Tesin, Orlova, Pardubice, Most and to all Trinec
All-Encompassing international association of same day UK and Czech freight forwarding companies that are professional enough to convey every type of jumbo-sized and heavy stock containers: perishable cargoes container, closed ventilator container, forty feet container, intermediate bulk shift container, open side container and plus
Next day united, flexible size, massed or sole use lorry for cargo moving Derby to Frydek-Mistek, St Albans to Sumperk, Plymouth to Havirov, Bath to Ostrava, Chichester to Prerov and any locality you aspire
Overnight early afternoon pallet pick-up with slick, specialist or honourable delivery
Chargeless United Kingdom to Czech Republic freight haulage prices assessment via our net space or estimate-digger
Emergency EUR-3 pallet transport to Modrany from Wolverhampton, cheap 120 cm × 100 cm pallet delivery to Decin from Wakefield, 24/7 39.37 in × 47.24 in pallet haulage to Ceske Budejovice from Birmingham, long distance 100 cm × 120 cm pallet shipping to Pisek from Lisburn, economy 80 cm × 120 cm pallet transport by land to Pilsen from Gloucester and similar
Express Euro1 pallet transportation to Litvinov from The Hague, late evening fresh vegetables removal from Krnov to Berlin, late afternoon household goods transport by road from Ceska Lipa to Mannheim, weekend moped and bike removals from Jablonec nad Nisou to Prague, Saturday 10ft shipping container collect and transport from Olomouc to Marseille, Sunday manufacturing machinery pick-up and delivery from Vsetin to Zaragoza and other