Freight and pallet delivery to France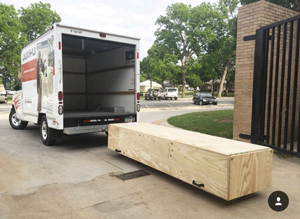 We are one of the best and cheapest freight forwarders as far as road transport to France is concerned. We provide daily shared load cargo shipping to France which is beyond the capacity of most freight forwarding European companies. A good number of freight forwarders in the continent will require some days in order to get a full truck load before dispatching their consignment. But whether we are delivering palletized cargo from the UK to France or from France to UK, we do provide daily transportation services and in this way, your shipment will be delivered on time without any delay.
Our express freight to France pallet haulage firms are able to meet the strict and difficult requirements of the same and next day delivery services. But for our more economic groupage or part container services, we deliver shipment within 48 hours/2 day. It is more cost effective than the next-day last minute pallet delivery services.
Express pallet delivery to France from UK do not limit our self to business and commercial cargo transport from France to UK or from UK to France we do cover all Europe - Portugal, Germany, transport to Austria, Poland, Belgium, The Netherlands, Spain, Hungary, Czech Republic and more. If you have personal or household goods or car to ship to France from London, Leeds,Glasgow, Derby, Nottingham, Bristol or anywhere in the UK there is no cause for alarm. We work with many UK to France removals firms that are very reliable in providing house removals services. We have no doubt that they will meet your requirements.
"La Republique Francaise" as it is called in French is the closest trading neighbours of France in the mainland Europe. Express Freight to France ship consignments on daily basis in our last minute pallet delivery services through Eurotunnel which is the only fixed link the United Kingdom had with other countries in the continental Europe. Through this link the business-to-business freight are moved by road safely from Folkstone in the UK to Calais in France. The journey which is more effective takes about 35 minutes to be completed. Our various terminals in France are easily accessed through M20 in Kent for super quick delivery from the UK and A16 for super quick delivery from France.
Express pallet delivery to France from UK
Our road haulage company have partners throughout the major cities in France and through our cargo distribution network, we are able to provide cargo collection and delivery services for to major cities in France such as Paris, Angers, Grenoble, Dijon, Toulouse, Brest, Nice, Marseille, Nantes, Lyon, Montpellier, Strasbourg, Lille, Bordeaux, Reims, Rennes, St Etienne, Le Havre, Le Mans and Toulon and back to the UK. We do not limit our express cargo transport to France services to the major cities. We also deliver goods on pallets to all smaller towns and villages in the country when the situations call for that. It is common to see our express cargo trucks in different locations in France including all the 21 mainland regions, namely, Upper Normandy, Rhone-Apes, Provence-Apes-Cote d'Azur, Poitou-Charentes, Picardy, Pays-de-la-Loire, Nord-Pas de Calais, Midi-Pyrenees, Lower Normandy, Lorraine, Limousine, Languedoc-Roussillon, Ile-de-France, Franche-Comte, Champagne-Ardenne, Brittany, Burgundy, Auvergne, Aquitaine and Alsace.
Our cheap pallet deliveries to and from France derived from our full load haulage even our most affordable part load or groupage services remain our most popular road freight services to and from the city. We can take jobs with just 2 hours notice and provide express pallet courier to France for the same day delivery. Why should you waste your time searching for UK cheap freight forwarding companies to and from France elsewhere when you can get superior and quality road transport services from Freight Forwarder. Our cheap, reliable and express pallets to France from UK distribution networks are capable of handling cargo transport logistics for you whether you are going for hotels, events, TV productions, exhibitions, product launches, auto parts delivery and many more.
Freight forwarding to France from UK
No custom documentations are required for cargo delivery to France by road freight because FRA is one of the pioneer members of the European Union. Significantly, France has the largest exports and imports in the world. The major exports are machinery, chemicals, plastics, transportation equipment, chemicals, beverages, pharmaceutical products, iron and steel while its major imports are various raw materials, crude oil, machinery and equipment, plastics, electronic products and chemicals. But no matter what your business-to-business requirements are, Express Freight to France from the UK are equal to the task and are capable of providing a sound, cheap freight forwarding solution that will meet your cargo shipment requirement.
24/7 cargo delivery to France from London, Nottingham, Leeds, Shrewsbury, Hereford, Cardiff, Newcastle, Lincoln, Ipswich, Norwich, Reading, Milton Keynes and all England, Wales, Ireland and Scotland are able to provide freight shipping services to France on all pallet sizes and type including Euro pallet and standard UK pallets. Our cheap pallet networks can handle your cargo haulage no matter the type of pallet it is, be it printer pallet, plastic pallets, wooden pallets, cages, crates, stillages and skids. We are top last minute pallet courier to France freight forwarding company to Europe and so we are able to carry all of them. We offer cargo haulage to France for standard 120x100 or 120x80 cm base pallets on discounted prices especially if the pallets are stackable because they maximize the available space in our trailer and truck. We also take pride in providing affordable courier services for most difficult and unusual loads including loads that are bulky and awkwardly shaped as well as manufactured goods and heavy machinery. We also work with many Swiss freight forwarders to ship cargo to France.
Heavy goods haulage to France
Whether you hire our groupage or full load heavy cargo haulage to France, our express delivery services are available for everyone. We do office removals to France as well as house moves. As one of the cheapest and quickest freight forwarding and heavy haulage companies, we offer different transit times for your freight exports and imports to and from France with the 3 day/72 hour services being the longest. Others are the next day/24 services and 2 days/48 hours services. For details on our low cost delivery services, kindly call our contact number now. Our expert will apply their expertise, experience and knowledge in providing you with advice and giving you practical help.
We put premium on your cargo from the UK to France and we do everything possible to meet special requirements which may be rejected or declined by other international shipping companies that provide special requirements. Sending Freight to France from UK are always ready to help you whether you require a two-man team, vehicle with tail-lift or other special handling facilities for pallet collections and delivery that are very challenging. We also provide timed cargo collection and delivery services and with our local partners, we are able to provide solution to difficult access and other problems that may arise in the process of delivering service to you.
Dedicated delivery by van for urgent next day express freight to France
Our cargo shipping business is capable of offering next day UK to France pallet delivery option for shipment that are highly time sensitive using our dedicated sprinter van and Luton, 13.6 meter trailers and 7.5 tonne, tail lift vehicles for express deliveries to France and across all of Europe.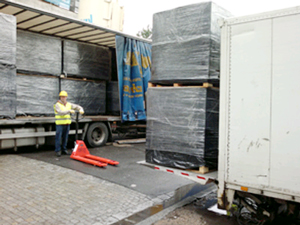 We provide the quickest possible GB-FR freight delivery using our dedicated man with a van express road freight vans. There is no need to use the airfreight services to France which is very expensive and has a lot of formalities and unnecessary bureaucracies.
With cheap freight forwarding companies to France and our dedicated express vans to Europe which is essentially door-to-door, your consignment will get to the final location safely, timely and securely and yet, you will be able to avoid the problems associated with airfreight.
UK to France cargo hauliers are also specialist in providing express courier vans throughout Europe. In this non-stop door-to-door express delivery, we don't limit ourselves to Paris but we extend our moving services to all parts of France carrying consignments from all parts of the UK. We can deliver freight to the remotest part of France. If you have valuable, fragile or time-sensitive consignment, this is the most suitable options for you. We are also capable of providing same day pallet courier to France services especially if service is booked in advance.
It is difficult to beat our express services given our transit times of 8-24 hours throughout France. We deliver boxes from London to Paris, transport a car from Bristol to Marseille, offer office removals from Manchester to Lyon, ship containers from Liverpool to Toulouse, offer cheap freight forwarding from Glasgow to Nice, haul heavy machinery from Leeds to Nantes.
With many years of heavy haulage to France from the UK we also do house removals to Strasbourg from London, business moves to Montpellier from Nottingham, sending car engines to Bordeaux from Newcastle, machinery removals to Lille from Brighton, excess baggage to Rennes from Derby, 20ft container shipping to Reims from Sheffield, motorcycle transport by road to Le Havre from Leicester, express courier to Saint-Étienne from Ipswich, cheap pallet delivery to Toulon from Norwich, heavy haulage to Grenoble from Gloucester, one way man and van to Dijon from Guildford, 24/4 express delivery to Angers from England, last minute shipping to Nîmes from Maidstone and full house moves to Villeurbanne from London.
Exporting to France
France is a Western European country that situated between Germany, Belgium, Spain, Switzerland and Italy. It lays in the south-east of the UK spanning the Bay of Biscay and English Channel and stretching to the Mediterranean Sea.
Call us as soon as possible if you need help with exporting goods on pallets from the UK and France and back.
The Metropolitan France which is also known as "L'Hexagone" has a lot of benefits to offer the UK export companies thanks to its ideal location, diverse, robust, and prosperous export market which can also serve as a gateway to penetrating other Euro-zone markets.
The economy of France is the fifth largest in the world. With 65 million people living in the country, its consumer market is the second largest in Europe. The country is not just the business geographical hub in the European Union (EU) but also in the Middle East and Africa.
Though the economy of FRA is diversified, the service sector remains the most significant, contributing 80% of the Gross Domestic Product (GDP). The industrial sectors of the country which are top-notch also contribute significantly to French economy. The industrial sectors driving the economy are:
aerospace and nuclear industries which are the largest
the second largest agri-food and chemical industries
information and communications technology (ICT) and pharmaceutical sectors which are ranked the third largest.
The leading financial centre in Euro-zone is Paris, the capital city of France. It has the second largest number of foreign firms and financial institutions in Europe. There are 500 banks of foreign origin in the city. We send pallets to France from the UK and back every day. We compare cheap freight forwarding companies to France and get you best rates.
The advantages UK businesses exporting to France have:
The country is very close to the Great Britain.
There is easy transportation links between the two countries through the Eurostar; besides flying to Paris and a lot of its provincial cities from the UK are highly affordable.
The time difference between the two countries is just one hour.
It has a diversified, open and large market.
Its status and demographics are similar to that of the UK.
The strong sides of the French market are:
It occupies a strategic position between the northern and southern Europe.
The country has a well-developed transport network including high speed trains and motorways.
It has links with Germany and other countries of EU as well as the Mediterranean countries in politics, commerce and transportation.
Major corporations such as Airbus, Safran, EADS, Thales, Danone, Dassault, Total, Carrefour, EDF, Areva, Peugeot, Renault, Orange and Alstom have their headquarters in France.
A good number of international trade fairs such as Maison et Object, SIAL, Paris Air Show and Paris Motor Show are hosted in France.
It is the world's most popular tourist destination with tourist activities generating about 770Euro billion and hosting 80 million visitors in 2012.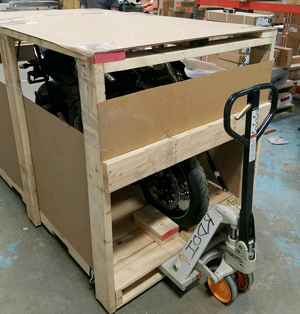 The markets in the UK and France have a lot of similarities. If you are successful with your business in the UK, it is much likely that you will also succeed in your business in France.
However, French are very careful about ordering from goods outside of FR. Thus, British companies wanting to export goods on pallets to France should be able to provide quality and reliable products and services and at very good rate.
Language and cultural differences constitute a big challenge to the doing of business in France by any UK company. There can also be resistance which can be dealt with by continuous and regular meetings. Check our services on freight to Italy shipping from France.
When setting prices, the conditions for payment have to be taken into consideration. Immediate payments on receipt of goods can be arranged for business to business transaction. A 60 day payment can also be negotiated.
In Europe, the standard payments terms for public authorities are maximum of 30 days.
The process of applying for the French government tenders is highly bureaucratic but it gives a lot of benefits when completed successfully. We serve many UK companies that were successful with tenders. We deliver pallets from the UK to France for them.
You are required to provide 'attestation fiscal et social' when you are successful with your application for a tender. This is a proof that you have paid all your taxes in the UK.
The equivalent document known as the DMBM206500-Payment Processing and Accounting: Certificates of Tax and National Insurance Contribution (NICs) are issued by the Her Majesty's Revenue and Customs (HMRC) which will take about 14 days to be delivered.
According to the prediction of the Organisation for Economic Cooperation and Development, French economy would have a steady growth in 2015 and will have 1.7% growth in 2016.
Local austerity measures have been softened a little bit. But the European Commission gave France a 2 year grace which will end in 2017 to bring its deficit below 3% of GDP.
The sectors that are most likely to do well according to the predictions of economists are automotive, aerospace, pharmaceuticals, information technology (IT), mechanical engineering and naval construction and repair.
Three quarters of the total employment in the country is provided by the service sector. Tourism is another sector that is much likely going to do well in the country.
The government of the country is actively involved in the economic policy in the following ways:
the publication of industrial strategies around particular sectors
making a 40GP billion investment in research, innovation, sustainable development, universities and the digital economies
encouraging cooperation among researchers, businesses and universities in establishing joint projects
The economy of France has:
an unemployment rate of 10 to 11%
little increment in the household consumption's level in 2015
Import duties are not charged on goods manufactured in the UK owing to the countries membership in the European Union (EU) as well as the World Trade Organisation (WTO). For that reason our cheap 24/7 express pallet courier to France from the UK is able to provide same day cargo collection, transport and delivery.
If the operation of the Single Market is imposing some challenges to us, kindly contact us.
In 2014, the value of goods and services exported from the UK to France was £13.9 billion. Great Britain was rated as the seventh largest trading partner of France. The major UK exports to France were: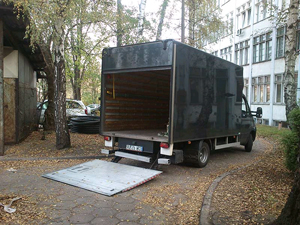 petroleum products
pharmaceuticals
vehicles
machinery and engines
electronic components
aircraft parts
plastics
jewellery
medical equipment
alcoholic beverages
Cargo shipped to France mostly
France has a strong retail sector which is built around the major retail chains' central buying offices such as Carrefour, Leclerc, Auchan, Intermarche and Casino.
In 2011, the sales made in the rector sector by the UK were estimated to be over £300 billion. In 2010, a 3.4% increase is witnessed in the UK retail sector sales. Brands from the UK have continued to rise in popularity especially with goods that give more profit in France than in other countries.
In the urban centres across France, a huge number of shopping mall projects are going on. Below are the opportunities for the UK companies:
Almost all the goods that are available for sale in the supermarkets in the UK are also available for sale in the supermarkets in France. We deliver garments to France from the UK all the year around.
Strong, innovative and information economy based UK companies have opportunities in France. Technologies for multimedia organizations provide opportunities in the following sectors:
advertising
music
film
television (TV)
video and computer games
electronic publishing
broadcasting
Opportunities include:
digital services and global digital content
online trading
design and crafts
For detailed information on the various opportunities provided by the creative industries sector, kindly contact us by sending us an email. Compare cargo to France transport costs and save money.
Haulage services to France
We have been transporting and hauling freight to Paris, Marseille, Lyon, Toulouse, Nice, Nantes, Strasbourg, Montpellier, Bordeaux and Lille for more than 10 years now and thus we have established creditability among our clients and so, you can trust in our ability to deliver our cargo to France transport services in such a manner that you will be able to take advantages of the new opportunities provided.
Express pallet haulage to France from the United Kingdom are at home with every corners of FR and given this fact, we will help you to make your initial steps across the Channel very smooth and easier. Established businesses can also benefit from our knowledge of the various localities in France as we will be able to help them grow and adapt to the new environment. Here are some of the reasons why you should consider using our professional last minute 24/7 UK companies hauling to France.
We are bilingual: Each of the members of our staff that will be dealing with you if you hire our services is capable of speaking both French and English fluently and with that there is no problem of communication barrier as well as mistakes arising from bad translation.
Deep knowledge of the locals: Our pallet courier freight forwarding companies UK to France understand the locals very well and the way they think. With our knowledge of the locals, cultures and work ethics, we will be able to help you overcome your competitors by providing you with a solution for delivery cost effective and timely service. We also provide services for many German freight forwarders shipping to France.
We know both locations very well: We know where you are located or where your consignment will be delivered whether in the UK or in France. Knowing the locations very well, we are quite aware of what is required in order to collect and deliver palletised goods, stock, products, car parts in the most efficient and effective way.
Sound input and advice: With our deep knowledge of the people, their cultures and localities, our French haulage companies are able to help you find out where you will have problems and also provide solutions to the problem to prevent them from occurring or their effect.
Full loads and part loads: Whether you are shipping general cargo or cargo considered as a hazardous cargo, you can choose between our full loads and part loads services. Each of the services is good in itself. Contact us to find out how much is to deliver 1, 2, 3, 4, 5 or 20 pallets to France from the UK. We will compare cargo transport costs for you from both French freight forwarders and UK transport firms.
Good, professional and reliable people to work with: We are highly reliable and have been able to meet the requirements of our clients thanks to the professionalism, expertise, experience, politeness and assiduousness of our staffs. So, if you hire express pallet courier to France from UK, you should have a rest of mind because you are dealing with good people.
Reasonable price: We provide our service at very competitive pallet transport price that you will ever find elsewhere taking into consideration the quality of the services we provide.
Timely and satisfactory service: We work hard always to meet the requirements of our clients and this is why we always succeed in satisfying our customers and delivering their goods on time.
We make a good partner to manufacturers and distributors that are looking for more than transportation services. If you cherish experience and expertise in freight forwarding, we are the way to go. Contact us now by calling our phone number.
Express cargo and pallet courier to France
France's export and import are second to that of Germany in entire Europe. The country has been a member of the World Trade Organisation since January 1 1995. The country is also a pioneer member of the EU which until 30 November 2009 was known as the European Communities and it also exists as an individual nation.
The majority of the our express cargo and pallet courier to France exports comprise valuable commodities such as transportation equipment, machinery, plastics, aircraft, chemicals, pharmaceuticals, steel, iron, consumer products, cars and other vehicles and petroleum. The trade between France and its European partners including the UK, Germany, Italy and Spain constitutes the major part of the country's trade. Owing to the rising deliveries to Germany and Italy, its European export has increased a little bit.
Outside the EU, its export to African as well as Asia is on the continual increase. However, there is a decline in its sales to Turkey, Switzerland, America and Middle East. The country is also the largest export of farm products and services in the world. France is also the United States of America's 9th largest trading partner. WE also work with many express pallet delivery to Poland from France firms.
The manufacturing industry of France which constitutes 27% of its GDP is the key exporter. The structural reforms introduced by the government of the country that promote all components of foreign trade help to bring about the exceptional growth witnessed in the industry.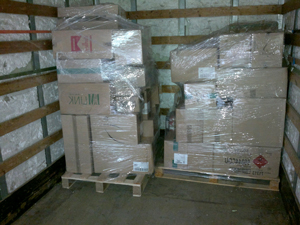 In June, the trade deficit of the country is brought down to €4.44 billion. The sudden decline in import with the highest decline witnessed in December 2010 was the cause of the deficit decline.
2012 Indicators and Statistics of Import and Export of France
Total exports value: $567.1 billion
Primary exports: commodities: Chemicals, plastics, iron and steel, aircraft, machinery and transportation equipment, beverages and pharmaceutical products.
Primary export partners: Italy (7.5 percent), Germany (16.7 percent of total exports), US (5.6 percent), delivery to Belgium (7.5 percent), Spain (6.9 percent), Netherlands and UK (6.9 percent).
Total value of imports: $641.3 billion
Primary imports – commodities: chemicals, plastics, aircraft, crude oil, vehicles, machinery and equipment.
Primary imports partners: China (4.9 percent), UK (5.1 percent), Spain (6.6 percent), Netherlands (7.4 percent), Italy (7.6 percent), Belgium (11.3 percent), Germany (19.5 percent).
Weekly Anglo–French Transport Shuttle
Below are some of the items that we transport from the UK to France and from France to the UK in our weekly transport shuttle.
Sofas, 3 piece suites and armchairs
Engines, gearboxes, body panels
TVs, White Goods, and Kitchen units
Wardrobes, mattresses and beds
Next day delivery to Denamrk from France
The dimension range of the article that we can carry is between 0.5m3 and 16m3 and the range of the weight is between 30kg and 1250kg.
You are welcome to our website. You are at the right place as far as reliable, affordable and easy express pallet haulage to France from London, Bristol, Brighton, Guildford, Reading, Milton Keynes, Southampton, Northampton, Lincoln, Cambridge, Peterborough, Telford and more.
Express freight forwarding to France provide safe pallet delivery with our shuttle services which are the most suitable for the delivering of furniture, fragile antiques, agricultural machinery, car parts and in fact virtually everything.
Let your supplier in the UK hand over your items directly to us. The majority of UK furniture and white goods suppliers provide UK delivery free of charge. Ask your supplier to hand over your goods directly to our secure storage unit and from there it will be shipped securely and safely to France on time and at a time that you prefer.
Low cost and expert cargo delivery between the UK and France
We have established an unbeatable track record when it comes to offer safe, secure and expert pallet delivery service. We have established popularity among France businesses that want to increase their sales by exporting to the UK and also among UK expats looking safe but reliable shipping services to France so that they will be able to move homes and transport their household items as well as personal effects from the UK to France.
Cheap cargo transport companies to France only require you to give us instructions. The entire move will be simpler and easier for you. Your goods will be picked up at the stipulated time by our dedicated Anglo-French shuttle and will ensure that your time gets to the final destination. Your goods once collected will not be brought down from the vehicle until it is delivered to the final destination. In this way, we eliminate the risk of damage associated with not just overnight pallet services but also with multi-vehicle logistics.
The delivery of furniture, antiques, car parts and white goods to France
If you have any furniture be it a wardrobe, bed, loft insulation, 2-seater sofa, 3-setaer sofa, corner unit, tables, chairs, garden items, machinery or anything from any part of the UK such as Manchester, Birmingham, Warrington and London to any part of France such as Bordeaux, Wattrelos, Lyon, Marseille or anywhere in the mainland France and vice versa, don't hesitate to contact our last minute and economy freight forwarding company. We also cooperate with Spanish freight forwarders to ship goods back to France.
French express pallet couriers
We provide cheap pallet courier delivery services to various European countries such as Germany, France, Italy, Belgium and Netherlands at the most competitive price. We have a number of strong links owing to our wide pallet network. Given this, we are capable of providing pallet delivery to and from any part of France and UK at the most affordable price. We are able to provide pallet and parcel deliveries to the Netherlands, Italy, Belgium, France and Germany.
We are close to the airport thanks to our Leicester, London, Edinburgh, Aberdeen, Chester locations. This implies that express pallet couriers to France from UK are able to pick and ship your pallets within the best possible time. We are not just like any other shipping companies.
We provide European collection and delivery services at a much reduced price. So, with us, you don't have to pay a ridiculous amount in order to deliver your pallets and parcels to France. We ship boxes, car parts, engines, furniture, food products and any type of goods.
24/7 same day pallet couriers to France from the UK will keep all the consignment and belongings that you keep in our charge secure and in good conditions and deliver them safely to you. No collection job is too much or too small for us. We can deliver just one parcel or pallet as well as large or even oversized pallet. Whether you have only an item to deliver or large items, our staff will make sure that your load are kept secure, safe, together and shipped as quickly as possible.
Cargo Shipping to France
As a popular tourist destination, France hosts over 80 million people on yearly basis. There are some pieces of information that will be helpful to you when it is time for you to ship your cargo, household items, personal effects or car to France from any part of Europe. French Freight forwarders can help you go through each stage of the process until your goods are delivered safely to you in France. The first thing that you may want to do is to obtain a quote for your cargo delivery to France and we can provide you that free of charge.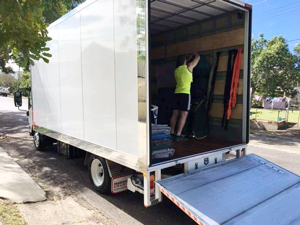 France is a home to a lot of cargo shipping ports of different sizes but the three largest ones are the Port of Marseille, the Port of Brest and the Port of Le Havre.
You are required to complete all the required paperwork and have them ready before your cargo will be shipped to France. There are a number of important documents that you should get ready and organized before shipping your cargo to France.
There are some documents that are standard and required for the shipping of cargo no matter where your consignment is being shipped. These standard types of documents are copy of your original passport, bill of lading and inventory list. However, apart from these documents, there are other documents that you are required to have if you are shipping your item to France. They include the following:
Certificate de Changement de Residence - You apply for this certificate at the French Consulate of the country where you are leaving for France. The certificate indicates your entry date into the country and departure date from the country.
Certificate de Non Cession - From this document, the French custom will know the type of item that you are shipping. It basically indicates that you are not shipping items with commercial value but personal belongings and household goods.
Proof of Residence in France - You can prove your residence in France in a number of ways which include providing your utility bills such as electricity, telephone, water and gas bills as well as rental agreement or a property title.
Proof of Residence Abroad - Documents showing that you have lived outside of France for at least a year will be required. Documents that can help you prove that include household bills and income declarations.
We allso offer express freight to Finalnd from France.
Apart from these documents, you will also require a number of letters when you are relocating to France. For example, it is advisable that you get a letter from your employer in France stating that you are employed by the business. It will also be good if you write a letter to explain your reasons for relocating or leaving France.
Sending personal items to France, boxes and furniture
The shipment of personal items or items made for personal use and not to be sold such as bicycles, musical instruments, sofas, wardrobes, sporting equipment, TV, fridge, freezer, washing machine, rugs, paintings, antique furniture and the likes are allowed and duties and taxes are not paid on them. However, the sales of these items while you are living in France are prohibited for one year.
Items not recommended for cargo shipping to France
When you are moving or shipping your personal effects and household, there are some items that you are discouraged from shipping as they may slow down the custom clearance process. A typical example of such item is alcohol. Apart of delaying custom clearance, high taxes are paid on alcohol. It will be probably more cost effective to buy alcohol in France than to import it from abroad.
Interested in bringing your car to France?
If you prefer using your car during your stay in France, you will require car shipment service. You are required to have the original certificate of title in order to ship your car to France. You are also required to have owned the car for a period of at least half a year before the shipment of the car into France. Get cheap car transport quotes from our car and motorcycle delivery firm to France. Check also next day pallet delivery Netherlands from France.
You will find cargo shipping much easier if you hire the services of a reliable, efficient and dependable cargo shipping company. Call us today to obtain your cargo shipping quotes free of charge and also to ask us any question that you have. Compare express pallets to France prices from UK shipping companies.